Hello,
Here's a recap of the best cider news worth sharing: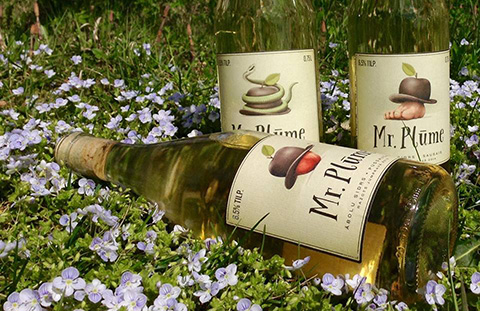 1) While they can't dunk like NBA phenom Kristaps Porziņģis, Latvian cider producers Mr. Plūme and Abavas can still take it to the glass. (Google Translate with the assist.)
2) The 2016 Good Food Awards Winners are announced. AeppelTreow Winery, Argus Cidery, Art + Science, Big B's Hard Cider, Eden Ice Cider Company, Ela Cider Company, Eve's Cidery, Finnriver Farm & Cidery, Shacksbury, and Snowdrift Cider Co. are this year's winning producers.
3) Paul and Amanda Vander Heide of Michigan's Vander Mill are named to the 2016 Imbibe 75. (No online article yet, but find a copy of the January/February issue at Where to Buy Imbibe.) The rapidly-expanding Vander Mill is set to make its Pacific Northwest debut during CiderCon.
4) The Cider Journal chats with Ellen Cavalli about An Illuminating Cider Experiment at Tilted Shed Ciderworks.
5) Cider Chat talks with Joe Getz of Kurant Cider and the Pennsylvania Cider Guild.
6) The Wisconsin State Journal interviews Paul Asper and Lissa Koop of Restoration Cider in Madison couple looks to launch into cider business with a niche product.
7) "It's all about money. They don't care about tradition, they don't care about what cider means to us." More reaction to C&C's cost-cutting announcement in Shepton Mallet in shock with cider mill set to close from The Guardian.
8) Coleman Cider Company talks about their full-juice ciders in Meet the team putting Yorkshire cider on the map from The Yorkshire Post.
9) The Manchester Beer & Cider Festival winds down in Manchester, England. See Cider & Perry 2016 for a list of what's pouring at the festival.
10) Along Came a Cider reviews Homestead Elderberry Apple from Aaron Burr. The Cider Journal reviews the 2013 Lost Orchard from Tilted Shed. Cider Says shares notes from a Gravenstein Single-Variety Cider Tasting and reviews Thatchers Gold from Thatchers, Apple from Portland Cider Company, Dark Currant from 2 Towns, and Sparkling Semi-Dry from Eden. The Milled Apple reviews Rind from Far From the Tree, Winter's Cinn from Cider Creek, and Semi-Dry from Farnum Hill. And Cider Press visits Humboldt Cider Co. in Eureka, California.
Have a great weekend!
Eric