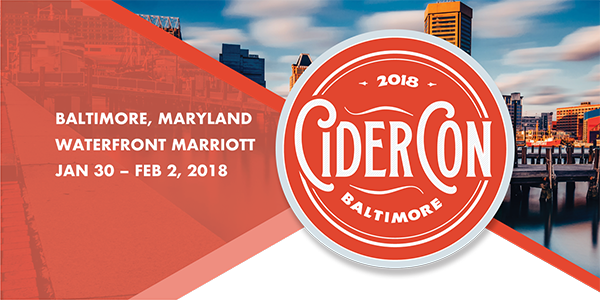 1) Anticipation builds for next week's CiderCon. Be sure to check out Cider Culture's Guide to CiderCon 2018: Where to Eat, Drink and Hang in Baltimore, Drinking Cider's Get Excited for CiderCon 2018 — Baltimore, and the growing calendar of events at Cider Week Baltimore.
2) Cidercraft is Talking Tannic Apples with Stephen Wood of Farnum Hill Ciders. (If you missed it, Eleanor Leger of Eden Specialty Ciders and Nancy Bishop of Alpenfire Cider also spoke with Cidercraft about working with tannic fruit.)
3) "If I respect the apples, they'll return the favor." The Truth In The Juice: Two Days With Normandy Cidermaker Cyril Zangs is an excellent profile from Sprudge Wine.
4) Cidercraft explores The Etymology of Cider…or Cyder? (Love cider history? Pommel Cyder curates a list of Historical Cidering resources and takes its Cider History Roadshows on tour.)
5) The long-awaited opening of Eris Brewery and Cider House is almost here. Learn more in Eris Could Open Next Week and Tour Eris, Chicago's First Cider Taproom and Brewpub from Eater Chicago.
6) Cider Chat talks with Jake Mann of Five Mile Orchard in California's Pajaro Valley.  And The Fermented Beverage Podcast talks with Chuck Shelton of Albemarle CiderWorks and Michelle McGrath of USACM.
7) Who wants to be a pommelier? from Imbibe UK explains the Foundation Course offered by The Beer and Cider Academy. (Chief Pommelier Examiner Gabe Cook will make a rare stateside appearance at CiderCon. Read more about The Ciderologist's tour stops in Global Gallivanting.)
8) The Good Food Awards announce their 2018 Winners. This year's cider winners are Big B's, Big Fish, Castle Hill, Dragon's Head, Ethic, Fable Farm, Far West, Finnriver, Foggy Ridge, Lassen, Shacksbury, South Hill, Stem, and WildCraft.
9) The Manchester Beer & Cider Festival is in full swing. Check out the Cider & Perry List and read more in Cider outlook is rosy.
10) Along Came a Cider reviews Descendant Succession. Cider Says reviews Portland Cider Apple, Hop'Rageous, and Sangria, Chatter Creek Barrel Roll, and Portland Cider Concord Grape. CiderScene shares its 2017 Award Winners. Sipology reviews Left Foot Charley The Cunning Ham. Hard Cider Reviews tries d's Wicked Cider Chanilla. Pips & Gribbles reviews West County Redfield. The Milled Apple reviews Hardball Cider Splitter. Cider Society reviews Portland Cider Concord Grape and Cider-Grown: Makers' Combo. The Cider Drinker reviews Perry's OPA and Bulmers Orchard Pioneers Sarah's Red. The Cider Inspirer reviews Angioletti Rosé with Blueberry. And Cider Explorer reviews Dorset Nectar Wildcat Cider, Manufaktura Cydru Półsłodki, and Abavas Ābolu Vīns Sausais.
See you in Baltimore?
Eric