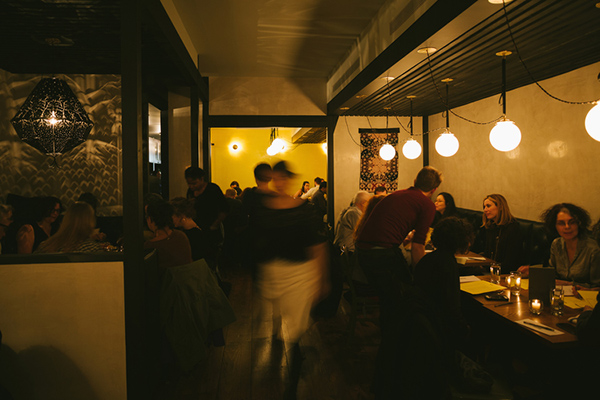 1) Wassail—the ambitious cider-focused restaurant and bar on Manhattan's Lower East Side—has closed its doors. Read more at Eater New York and The Lo-Down.
2) In other sad news, InCider Bar in Prague and the Three Counties Cider Shop in Ledbury are also closing.
3) The Cyder Market releases its semi-annual Cider Maker Survey. Dale Brown—managing partner at The Cyder Market—is the featured lunchtime speaker at CiderCon on February 1st.
4) Cider/Food reflects on De Manzana Seleccionada, a collaborative venture "centered around the traditional apple varieties of Asturias [that] seeks to establish quality standards for Sidra Natural from the orchard to the bottle."
5) Kevin Koczwara interviews Tom Oliver—The World's Most Influential Cidermaker.
6) Cider Chat interviews Eric & Katie Rider of Rider Ranch Ciderworks in the Santa Cruz Mountains.
7) Matt Kaminsky of Gnarly Pippins reflects on Why Wild Apples Matter in Your Orchard. And Eliza Greenman of unconventional stories from an apple farmer reflects on the Passing of Joyce Neighbors – Alabama Apple Hunter.
8) Eve's Cidery advertises its Internship 2018. And Reverend Nat's is looking for an Operations Director.
9) Cider Soms preview Cider Summit Chicago, to be held Saturday, February 17th on Navy Pier.
10) Along Came a Cider reviews Carr's Ciderhouse Gingered Hard Cider. Cider Says reviews Eric Bordelet Sidre Tendre, Bite Hard Sancho Libre Peach Sangria, and Cockrell Colonial Winter. Cidercraft reviews Seattle Cider Tangerine Turmeric. Pips & Gribbles reviews Eve's Rustica 2015. The Milled Apple reviews Bad Granny Hard Cider and Melick's 1728 Traditional. Cider Society reviews Shacksbury Pét Nat, Sheppy's Somerset Draught, Ribela Besta Hopped Cider, and Shacksbury Momofuku Cider. The Cider Crate lists its Best of 2017. Cider Explorer lists its Top 10 Ciders of 2017 and reviews De Vergeten Appel t'Gouverneurtje 2016 and Obsthof am Steinberg Goldparmäne Alte Bäume 2014. The Cider Drinker reviews Gibbet Oak Russet. And Real Cider Reviews lists its Best Ciders of 2017 and reviews Balholm Handverk Cider Økologisk.
Have a great weekend!
Eric