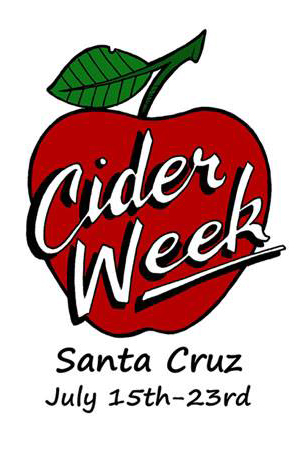 1) The inaugural Cider Week Santa Cruz begins this weekend. The fertile Pajaro Valley—home to Martinelli's, which ended hard cider production in 1977—may once again rise to prominence in the cider industry.
2) Cyder Market shares findings from its semi-annual USA Cider Maker Survey.
3) Jeff Alworth—author of Cider Made Simple—writes on The Pleasures of Pommeau.
4) At Cidercraft: Mashing In: Innovative Cider Techniques Borrowed from Beer and Virginian Roots Reborn at Buskey Cider.
5) At Cider Culture: Jeni's Offers Hard Cider Lovers a Cool Treat and The Story of Starting Hale & True: The Logistics.
6) Cider Chat turns apples into juice in Cider Pressing History. And Cider Sleuth is On Tour in Luxembourg.
7) The Good Food Awards is accepting cider entries until July 31st. The awards celebrate companies who create vibrant, delicious, and sustainable local food economies.
8) The Australian Cider Awards—open to any producer whose ciders are for sale in Australia—is accepting entries until September 1st. (Willie Smith's—Best in Show winner in 2015 and 2016—hosts the Huon Valley Mid Winter Festival this weekend in Tasmania.)
9) Penn State Extension is organizing a New Zealand Orchard & Cidery Tour in February 2018. Participants must be commercial cidermakers, commercial apple growers, or producers-in-planning.
10) Along Came a Cider reviews Wyndfall Root River. Cider Says shares Perry Tasting Notes and reviews Wrangletown Fieldbrook Nursery Orchard and Wrangletown Monument Apples Orchard. Cidercraft reviews Julian Pearanormal. The Milled Apple reviews Artifact Cider Project Papa Knows Best and Farmhaus Raspotle. Cider Society reviews Reverend Nat's Revival, Stormalong Kingston Black, Craigies Ballyhook Flyer, and Cigar City Hard Cider. The Cider Drinker reviews Mates Linnet Rhubarb. And Cider Explorer reviews Winnica Chodorowa Cydr Wytrawny 2014, Carboy Cidre, and Gwatkin Stoke Red.
Have a great weekend!
Eric