Hello,
Here's a recap of the best cider news worth sharing: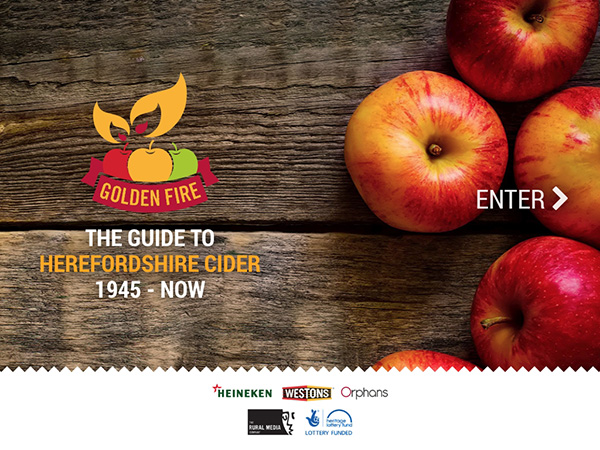 1) The highly-anticipated Golden Fire app celebrating cider in Herefordshire is now available for download on the App Store and Google Play. Read more about this unique digital arts project, or watch this short teaser video from Rural Media.
2) Steve Wood of Farnum Hill Cider and Craig Campbell of Tieton Cider Works chat with Good Fruit Grower in Two Growers Weigh In On Cider Apple Varieties. Other recent articles from Good Fruit Grower include Cider Apple Variety Shortage (with commentary from Wood and Ian Merwin of Black Diamond Cider) and Trials To Improve Cider Tannins And Harvesting.
3) Cidercraft interviews Dana Masterpolo of Bantam Cider, Sip Northwest interviews Chris Schmidt of Tod Creek Craft Cider, and Capitol Cider interviews Tim Larsen of Snowdrift Cider.
4) What happens when Garrett Oliver of Brooklyn Brewery and Rob Lovatt of Thornbridge Brewery mature a Belgian-style golden ale on cider lees contributed by Tom Oliver of Oliver's Cider & Perry? Learn more about the Serpent collaboration in How two of the world's best craft brewers and a cider producer 'broke beer boundaries'.
5) Kate Bernot of DRAFT Magazine explores the ongoing trend that is The great beerification of cider.
6) Cider Chat interviews Adam Krakowski—author of Vermont Prohibition: Teetotalers, Bootleggers & Corruption—on historical legislation that has influenced the production and consumption of hard cider. And Beer Sessions Radio chats with David Dolginow of Vermont's Shacksbury Cider.
7) Sofia Payson writes for Cider Culture on Lessons from the Past for Today's Cider Makers. The article examines Vrest Orton's The American Cider Book: The Story of America's Natural Beverage that was first published in 1973.
8) Curious what's on offer at recently opened cider bars? Check out the cider lists from Lost Valley Cider Co. in Milwaukee, Black Twig Cider House in Durham, The Northman in Chicago, and Her Father's Cider Bar in Toronto.
9) Cider Week Hudson Valley and Minnesota Cider Week come to a close this weekend. On tap for Saturday: Pour the Core Brooklyn.
10) Along Came a Cider reviews Symond's Scrumpy Jack Premium English Cider. Cider Says shares tasting notes from a flight at Schilling Cider House and reviews Schilling Bailout Lemongrass Agave, Big B's Lazy Daze Lemon Hard Cider, Atlas Dragonfruit Cider, and Blue Moon Winery Raven's Moon Apple Cider. Cider Soms visit Left Foot Charley and Taproot Cider House in Traverse City. The Milled Apple reviews Viuda de Angelón Sparkling Pear Cider, Angry Orchard Green Apple, and Starcut Ciders Squishy. The Cider Journal reviews 101 Cider House Black Dog Super Dry. The Ciderist reviews Black Diamond RabbleRouser and Aval Cidre Artisanal. And Real Cider Reviews tries Henney's Vintage Cider.
Have a great weekend!
Eric