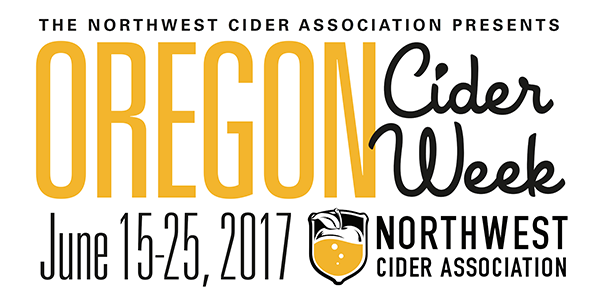 1) The opening weekend of Oregon Cider Week is headlined by Cider Summit Portland. How to choose among nearly 200 ciders? See 31 Medals Awarded in Portland Cider Cup Competition for this year's best Pacific Northwest ciders.
2) Schilling Cider House Portland opens today with 50 cider taps and a small menu of appetizers from its gluten-free kitchen. See First look at Schilling Cider House Portland from The New School and 5 Questions with Colin Schilling from CiderScene for more.
3) Cider Culture shares its #PickCider Recipe Roundup for Summer 2017.
4) Also at Cider Culture, German Apfelwein Bembel-With-Care Makes East Coast Debut with its Apfelwein Pur, Apfelwein Kirsch, and Apfelwein Cola.
5) Cidercraft posts Picturesque Perry Reigns at Nashi Orchards on Vashon Island. And Eater Seattle shares An Illustrated Guide to the Olympic Peninsula Cider Route.
6) Cider Chat releases Part 2 of an interview with AEppelTreow's Charles McGonegal, focusing on sensory analysis.
7) Traditional Welsh Perry & Cider toast protected status success, but How protected status will impact Welsh cider reveals that not all producers embrace the PGI.
8) Ice Cider Against All Odds is a short video featuring Brännland Cider. Also in Scandinavia, Helsinki's Sidrería is a cider bar focusing on Spanish and French ciders.
9) On tap this weekend: the Royal Three Counties Show in Worcestershire and Slavnost Cideru in Prague.
10) Along Came a Cider reviews Ricker's Mainiac Blueberry. Cider Says reviews Worley's Special Reserve and Gumption Cider Co. Citrus Freak. I think about cider reviews Manoir du Grandouet Cambremer Cidre AOP Pays d'Auge. Cidercraft reviews Anthem Cider Pear. The Milled Apple reviews Stem Branch and Bramble. Cider Society reviews Portland Cider Company Apple, Cider Creek One in a Melon, and Artifact Cider Project New World. Cider Sleuth goes West Country Sleuthing in Herefordshire. Cider Steve reviews Bignose & Beardy's Hedgerow and Cockhaise. The Cider Inspirer reviews Oliver's Stoke Red. The Cider Drinker reviews Cider Magnetic Apple Premium. Cider Explorer reviews Val de Rance Cru Breton Cidre Doux, Marks & Spencer Somerset Traditional Cider, and Sheppy's Dabinett. And Real Cider Reviews tries Borrodell The Comrade Cider.
Have a great weekend!
Eric