Hello,
Here's a recap of the best cider news worth sharing: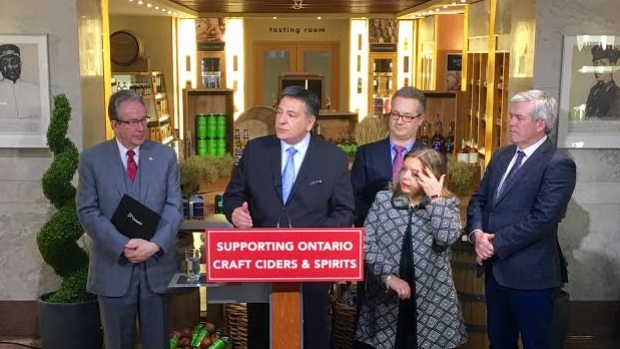 1) Ontario's Small Cidery Support Program will provide eligible cidermakers—including the 27 members of the Ontario Craft Cider Association—with financial assistance to invest in equipment, employees, and supplies. Learn more in Ontario cider producers welcome support from government at Wines in Niagara.
2) Entry registration is open for the Great Lakes International Cider and Perry Competition, the Portland International Cider Cup, and the British Cider Championships held at the Royal Bath & West Show. Today is also the entry deadline for the San Diego International Beer Competition, which includes categories for cider.
3) Say it plain: A #cidertasting guide is the latest educational piece from CIDRBOX.
4) What the F*** is Keeving? is CiderScene's answer to the common question about French cidermaking technique.
5) Good Beer Hunting interviews Pete Brown, co-author of World's Best Ciders and author of the recently-published The Apple Orchard. And Cider Chat interviews Jeppe Gents of Fejø Cider in Denmark. Fejø's export markets include Sweden, Germany, and the United States (via Shelton Brothers).
6) Cidercraft lists 4 Midwest Cideries to Tap This Spring. Cider Culture shares that Long Island Lands a New Cidery in Riverhead Ciderhouse. And Cider Soms visit North Shore Cider Company in Evanston, Illinois.
7) Herefordshire producer Little Pomona launches its first cider this weekend. Their debut release Feat of Clay 2015 features organically-grown Dabinett and Foxwhelp in the blend.
8) Cider Sleuth shares My Supermarket Top Picks for UK drinkers who think they don't like cider.
9) Reverend Nat's announces its 4th Annual Hopped Cider Fest to be held on Saturday, April 8th. And Sea Cider announces its 3rd Annual Cider Social to be held on Sunday, April 30th. (For more upcoming events, check out Cider Culture's Events Archive or my US & Canada Cider Festivals and International Cider Festivals pages.)
10) Along Came a Cider reviews Angry Orchard Spiced Apple. Cider Says shares tasting notes from Schilling Cider House Visit 23 and reviews Domaine du Verger Rosé and Eve's Kingston Black 2015. Cidercraft reviews Bold Rock Citrus. I think about cider reviews Eric Bordelet Argelette Sydre 2013. Sipology reviews Uncle John's Perry. Cider Soms review Angry Orchard Tapped Maple and Spiced Apple. The Milled Apple reviews Austin Eastciders Pineapple, Downeast Pumpkin Blend, and Stowe Smugglers' Reserve. Simple Cider Reviews tries Irvine's Vintage Blend. Cider Society reviews L'Hermetière Cidre Demi-Sec, Wild Hare Harvest Moon, Millstone Farmgate OVB, and Embark Citra Amarillo. CiderScene shares Start-of-Spring Cider Brunch Recipes. And The Cider Drinker reviews Celtic Marches Thundering Molly, St Paul's Sacrifice, and Victor's Apple Cider Kit (with a follow-up re-review).
Have a great weekend!
Eric