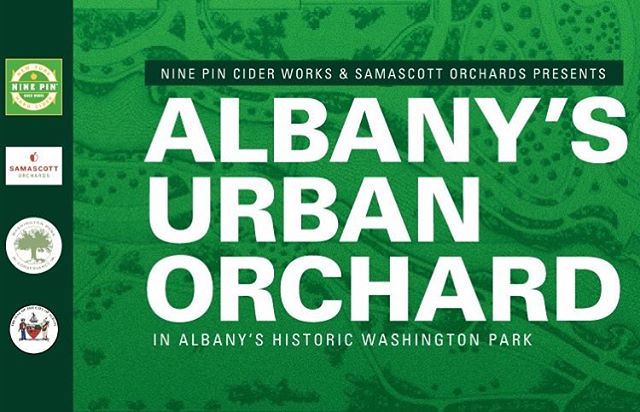 1) Nine Pin Cider and Samascott Orchards announce An orchard for Washington Park in downtown Albany. The urban micro-orchard—to be planted at a ceremony on April 15th—will highlight New York varieties such as Esopus Spitzenburg, Golden Russet, and Northern Spy. Visit the Albany's Urban Orchard event page for details.
2) Angry Orchard Releases Understood in Motion 03, a Dabinett-heavy collaboration with Oliver's Cider and Perry.
3) Sour cider specialist Graft Cider is Poised to Take Over the East Coast according to Cider Culture. (Of related interest: Seth Boeve discusses various lambic-inspired Sour Cider Experiments at Virtue Cider.)
4) Beer Sessions Radio interviews Susan Yi and Lindsey Storm of Brooklyn Cider House. And Cider Chat interviews Trevor Baker of Noble Cider in Asheville, North Carolina.
5) Notable cidermaker profiles: Ela Cider / Restoration Cider (Rochester / Madison WI), Haykin Family Cider (Aurora CO), and Hemly Cider (Sacramento County CA).
6) Charitable Cideries Give Back with Cider according to Cidercraft.
7) Departures Magazine takes a look Inside Estonia's Artisan Cider Scene.
8) English competition season is just around the corner: The Big Apple Cider and Perry Trials, the Cider Museum Hereford Cider & Perry Competition, the British Cider Championships, the Royal Cornwall Show, and the Royal Three Counties International Cider and Perry Competition. (Also of note: the legendary Powerstock Cider Festival is reborn as the Melplash Cider Festival, to be held April 21st in West Dorset.)
9) Confetti Travel Cafe shares its Favorite Ciders from Cider Rite of Spring, held on March 10th in Portland, Oregon. (Also in Portland: a Special Cider Tasting this Sunday at Widmer Brothers Brewing.)
10) Along Came a Cider reviews Angry Orchard Rosé and Stowe Cider Snow's Raspberry. Cider Says reviews Newton's Folly Semi-Dry and Alpenfire Tempest New England Style. CiderScene reviews Woodchuck Pear Ginger. Cider Table reviews Good Life Glacial Till Heirloom Ice Cider and Shacksbury Arlo. The Milled Apple reviews Wyndridge Crafty Cranberry. Cider Revival reviews Ace Joker, Virtue Michigan Brut, Austin Eastciders Original Dry, and Harpoon Craft Cider. Cider Explorer reviews Mr. Plūme Ābolu Sidrs Sausais 2016, Cydr Jabłkowy Lodowy 2017, and Gibbet Oak/Nightingale Tenterden Cider. And Real Cider Reviews tries Spreyton Cider The Big Q 2017 and Small Acres Cyder The Cat's Pyjamas 2015.
Have a great weekend!
Eric