Hello,
Here's a recap of the best cider news worth sharing: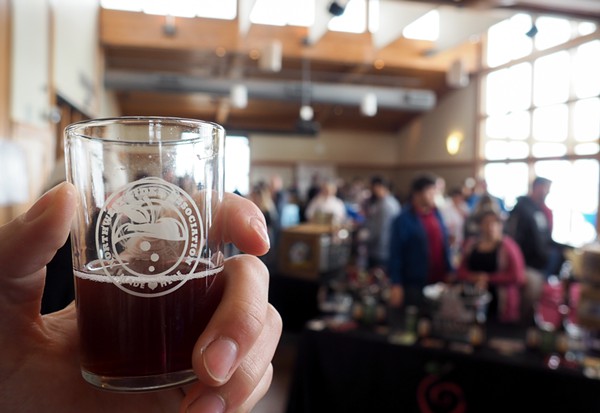 1) The 4th Annual Cider Rite of Spring is this Saturday in Portland. The popular tasting festival—presented by the Northwest Cider Association—is one of the country's largest. Visit Cider Rite of Spring on Facebook and listen to Episode 31 of the Portland Beer Podcast for details.
2) The annual Apfelwein International festival is this Sunday in Frankfurt. This year's guest country of honor is Denmark. (The inaugural Global Cider Forum—organized by the European Cider & Fruit Wine Association—will be held in Frankfurt on September 6-7.)
3) Mike Pomranz visits Petritegi and Zapiain during txotx season in Basque Cider House Rules at Food & Wine.
4) "Cider is becoming cool? It's about time." Bill Zacharkiw writes for the Montreal Gazette in A new generation for Quebec's cider industry.
5) Artisan Cider Sales Surge in 2016 according to Nielsen data obtained by The Cider Journal. (USACM will offer a members-only Cider Trends in the U.S. webinar on Wednesday, April 5th. Nielsen's Danny Brager and Matt Crompton are presenting.)
6) Cidercraft encourages you to Embrace the Crunch with 5 Asian Pear Ciders and Perrys.
7) Classic Cider Cocktail is Pilango Cider's spin on the classic Champagne cocktail.
8) GLINTCAP 2017 — It's Time to Register and Ship! reminds entrants that the entry window for the 12th Annual Great Lakes International Cider and Perry Competition closes next Friday. Registration is also open for the 2nd Annual Dan Berger International Cider Competition.
9) Wassail's 2nd Anniversary Party will be held on Wednesday, March 29th from 7pm to midnight. The pay-as-you-go event will feature a special selection of draft and by-the-glass ciders.
10) Along Came a Cider reviews Blue Bee Charred Ordinary. Cider Says shares tasting notes from Schilling Cider House Visit 24 and reviews Woodchuck Summer Time Pear Ginger and Nashi Orchards Black Swan Cider. I think about cider reviews Beau Soleil Cidre Fermier Bio. Cider Soms interview Eden's Eleanor Leger to launch their Women in Cider series. The Milled Apple reviews Angry Orchard Summer Honey. Cider Society reviews Eden + ANXO Collaboration #4, Potter's Farmhouse Dry, and Clos Saragnat Des Bulles. The Cider Drinker reviews Scrumptious Wild Gatherer and Dorset Nectar Old Harry Rocks. And Real Cider Reviews tries Willie Smith's STURMtrooper Mk2 and Lost Pippin Special Release Vintage 2014.
Have a great weekend!
Eric