Here's a recap of the best cider news worth sharing: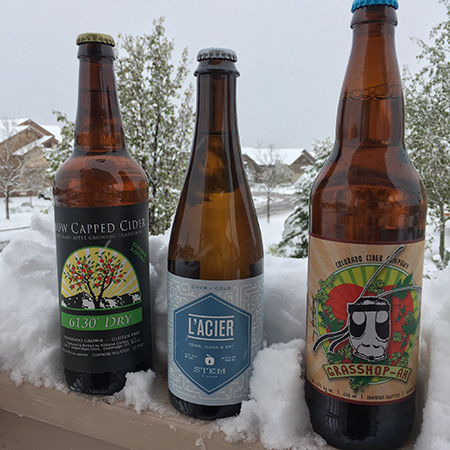 1) The 2nd Annual Cider Week Colorado—presented by the Rocky Mountain Cider Association—kicks off on Monday. The flagship event is The Pressed Conference, a tasting festival held in Denver on Saturday, May 27.
2) The excellent Adam's Apples blog—whose favorite varieties include Ashmead's Kernel, Cox's Orange Pippin, and Wickson—helps enthusiasts move beyond the mainstream with Gateway Apples.
3) "We use 100% locally sourced apples and cider for 100% of our products, 100% of the time." Citizen Cider's excellent orchards map is a transparent look at their ingredient sources.
4) Wicked Fresh Cider in Boston is Ronald Sansone's latest Cider Travels feature for Cider Culture.
5) Finding Sacramento interviews Vincent Sterne of Two Rivers Cider Company. The Cider Sessions interviews Steve Selin of South Hill Cider in the Finger Lakes. And Cider Chat interviews Teddy Weber of Tin Hat Cider in Vermont.
6) The cider results are in for Dan Berger's International Wine Competition. The Cider Journal interviews Kristen Needham of Sea Cider, whose Bittersweet won the Sweepstakes Award for best cider in the judging.
7) Millstone's Farmbucha Cyser is a blend of apple juice and raw honey that is fermented with a kombucha SCOBY culture and aged in barrels for 18 months. The effervescent dry cyser is set for release on Saturday.
8) Ellen Cavalli of Tilted Shed Ciderworks and Darlene Hayes of Cider Cocktails: Another Bite of the Apple are collaborating on Sonoma Pomona, an Instagram catalog of apples grown in Sonoma County.
9) Batlow, New South Wales—located at the base of the Snowy Mountains 450 kilometers southwest of Sydney—hosts the annual Batlow CiderFest on Saturday. And the Cambridge Beer Festival—the longest-running CAMRA festival, which takes pride in its cider and perry list—takes place all next week.
10) Along Came a Cider reviews perries from Eve's, Wyder's, and Magners in Very Perry May Pt. 3. Cider Says reviews Aval Cidre Artisanal, Locust Cider Vanilla Bean & Smoked Blueberry, and Henney's Vintage Still Cider 2014. Cidercraft reviews Albemarle CiderWorks Harrison. I think about cider reviews Dunkertons Black Fox Cider. The Cider Journal reviews 2 Towns Cidre Bouché 2015. CiderScene ponders Why Consider Drinking Cider Now? The Milled Apple reviews Mission Trail Diehard Cider. Cider Society reviews Urban Tree Classic and Sandford Orchards Chestnut Cask. And Cider Explorer reviews Gibbet Oak Pear Cider, Dunkertons Black Fox, and Heineken Apple Bandit.
Have a great weekend!
Eric