Hello,
Here's a recap of the best cider news worth sharing: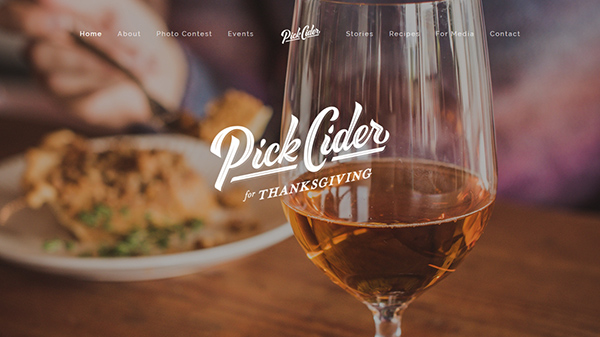 1) PickCider.com is launched by the US Association of Cider Makers to promote serving cider at Thanksgiving. Notable posts from cidermakers include Eve's Thanksgiving Pairing Guide (with recipes for Native Wild Rice Stuffing and Flakey Pie Crust with Calvados), Eden's How to pair ciders with your Thanksgiving meal, and Starcut's Take The Edge Off Holiday Cooking. Show your solidarity by adding #PickCider to social media posts with harvest or holiday themes.
2) The Good Food Awards announces its 2017 Finalists. In the Cider category, 16 producers were named as Finalists: Bad Seed, Big B's, Blue Bee, Castle Hill, Eve's, Far West, Finger Lakes Cider House, Finnriver, Humboldt, L. Mawby, Orchard Hill, Scar of the Sea, Slyboro, Snowdrift, Whitewood, and Wrangletown. Of the 28 products advancing, the three highest-scoring entries from each region will be named as 2017 Winners in mid-January.
3) In other competition news, the inaugural US Open Cider Championship received 160 entries in 15 style categories. Angry Orchard was named Grand National Champion with 1 Gold, 3 Silvers, and 1 Bronze. At the Festival of Barrel & Wood-Aged Beers in Chicago, Angry Orchard wins Gold and Seattle Cider Company wins Silver and Bronze in the Cider/Perry/Mead category. The full list of 2016 Ontario Cider Awards winners has also been announced. West Avenue Cider's Gold Dust was named Best in Show. And looking ahead, the International Cider Awards are accepting entries through January 31st.
4) Philly Gets Its Own Cider Bar according to Cider Culture. Cinder—which opened last Friday in Rittenhouse Square—is a pizza-focused bar and restaurant with 6 of its 32 taps currently devoted to cider.
5) "Cider is a really beautiful, simple, and unpretentious yet sophisticated drink." Alex Wilson chats with And North in Wayside Cider Tap Room: Showcasing Cider and Community in Andes, NY.
6) Woodchuck branches out into higher-end ciders with Addison—a 5% ABV semi-dry cider made exclusively from New England apples—and Wassail—a 6.9% ABV spiced cider aged in rum barrels. Learn more in Vermont Cider Company Enters Ultra-Premium Cider Segment and follow Vermont Cider Co on Facebook for updates.
7) Kingfisher has partnered with Aspall to launch Peacock, a cider designed to be served at Asian restaurants in the UK. Learn more in Indian beer brand Kingfisher eyes 'untapped' opportunity in cider. Similar cider brands include Bhai, Himachal, and Pukhraj.
8) Cidercraft encourages you to Expand Your Palate with 6 Asturian Ciders.
9) On tap: The Drunken Pumpkin at Fishkill Farms in the Hudson Valley and the closing weekend of Cider Week Virginia. (And in case you missed it, The Nelson Mail recaps the New Zealand Cider Festival and Cider Snob shares photos of People, Scenes, and Cider from Franklin County CiderDays.)
10) Along Came a Cider reviews the Twilight Walk, Talk and Picnic Dinner held at Indian Creek Farm during Cider Week Finger Lakes. Cider Says shares tasting notes from a visit to Schilling Cider House and reviews Red Tank Roughneck and The Original Cider Tasting Mug and 33 Mugs of Cider Book. The Milled Apple reviews Old Hill Heritage and Angry Orchard Walden Hollow. CiderScene reviews Citizen Cider Dirty Mayor. Cider Society reviews Trabanco Sidra Avalon and Millstone Rhuberry. Simple Cider Reviews tries Eaglemount Rhubarb, Sea Cider Pippins, Ole Swede Blend of 9, 2 Towns Ciderhouse Traditions Riverwood 2011, Virtue Cidre Nouveau 2013, and Alpenfire Spark! The Cider Drinker reviews Falling Apple Medium Gravity. And Cider Steve reviews Worcestershire Wobblejuice Perry.
Have a great weekend. Be sure to #PickCider for Thanksgiving!
Eric