Hello,
Here's a recap of the best cider news worth sharing: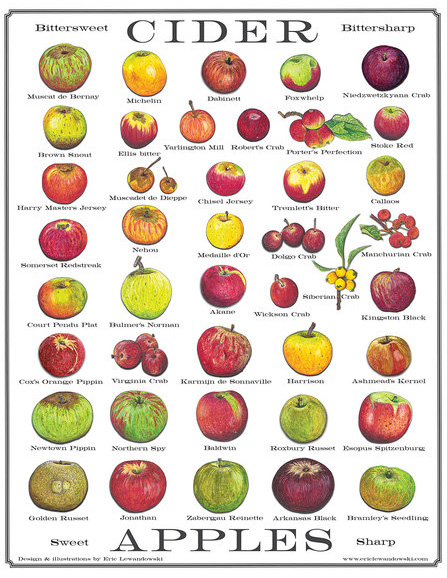 1) Black Friday is upon us, so I've arranged a few special deals for my loyal readers. For Eric Lewandowski's beautiful apple posters and prints, use discount code PICKCIDER16 for free shipping on orders of $75 or more (expires December 4th at 9pm EST). For Bill Lyon's wonderful Drink Cider dish towels, use discount code PICKCIDER for 10% off all orders plus free shipping (expires November 29th at 9am EST). And for a one-year subscription to CIDERCRAFT Magazine, use discount code HOLIDAY ($10 for 3 issues, expires December 31st).
2) The newly-launched CIDRBOX service will feature products from Eden Specialty Ciders in its December shipment. Use discount code SHIPITFREE for free shipping on December's 3-bottle, 6-bottle, or 12-bottle shipment (renews monthly) or December's 3-bottle shipment (one-time only). The free shipping offer expires December 1st.
3) Ronald Sansone writes for Cider Culture on Drinking Cider in Denver, Colorado. And Francie Swidler writes for The Denver Post on Watch out, craft beer: Cider is changing the beverage game in Colorado.
4) Beer Sessions Radio talks Oregon Cider with Kevin Zielinski of E.Z. Orchards. And Cider Chat talks with Chuck Shelton of Albemarle CiderWorks in Virginia.
5) Daniel Emerson of Finnbarra Cider reflects on his recent journey to Asturias in Road Trip 2016 (Part One).
6) The Ciderologist reconnects with his native Herefordshire cider and perry tradition in Whanau, Whenua & Whakapapa.
7) Brännland Cider in Umeå, Sweden is raising funds via Kickstarter to turn their recently-planted orchard into a research and development center for apple growing in subarctic regions. For more on Brännland, listen to Cider Chat Episode 039 with founder Andreas Sundgren.
8) In other crowdfunding news, Dressler Estate Cider in Downingtown, Pennsylvania is raising funds to purchase equipment. The twist? They're seeking a small loan via Kiva, the nonprofit microlending site. See A loan to Olga for more details. And leading Polish company Cydrownia—known for its Cider Inn, Dzik Polski Cydr, and Cydr Grójecki brands—is selling shares directly to the public via Beesfund.
9) Penn State Extension announces a Cider Symposium to be held on January 30th, prior to the opening of the Mid-Atlantic Fruit and Vegetable Convention in Hershey, Pennsylvania.
10) Along Came a Cider reviews Vermont Cider Co. Addison and shares her pairing tips in Pick Cider for Thanksgiving! Cider Says reviews 2 Towns Traditions Cidre Bouché, Whitewood South Sounder, and Cidrerie du Vulcain Transparente. The Milled Apple reviews Embark Craft Ciderworks American Hopped, Stowe Cider Strawberry Fields, and Bear Swamp Orchard Hopped Hard Cider. Simple Cider Reviews tries Ace Pumpkin Hard Cider, Schilling King's Shilling, Bite Hard Semi Sweet Cider, Chatter Creek Pilot Project 1 Golden Cider, Bull Run Gravenstein, Eden Sparkling Cider Dry, and Hogan's Medium Cider. Cider Society reviews Cider Creek Winter's Cinn, Bembel With Care Apfelwein Pur, Angry Orchard The Muse, and Virtue Cider The Mitten. CiderScene reviews Bite Hard Dry Cider. Cider Press reviews 101 Cider House Prickly Perry. The Cider Drinker reviews Friels Hopped Vintage Cider, Rich's Golden Years Yarlington, and Angioletti Secco. And Cider Steve reviews Ramborn Cider Somerset Blend.
Have a great weekend!
Eric