All,
Here's a recap of the best cider news worth sharing: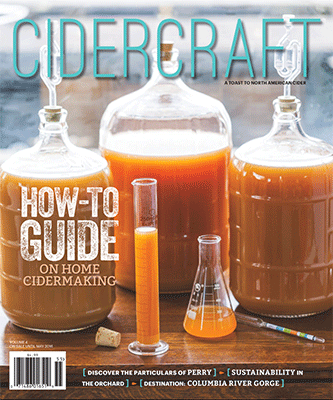 1) The latest issue of Cidercraft Magazine features my How to Make Cider at Home article on the cover. Subscribe to the print or digital version today!
2) USA Today visits The Midwest's Best Craft Cider Makers. Be sure to scroll through the 50+ images in the gallery from producers in Minnesota, Wisconsin, Iowa, Illinois, Indiana, Michigan, and Ohio.
3) Virtue Cider's Percheron tops all cider/perry/mead entries at the Festival of Wood and Barrel-Aged Beers competition in Chicago. This is the third straight year that Virtue has earned Gold at FoBAB. Apple Knocker's Hard Knocks earned Silver and Sonoma Cider's Dry Zider earned Bronze.
4) Ye Olde Cider Bar in Newton Abbot, Devon—one of England's few remaining cider houses—has a new lease on life.
5) Pomologist and fruit historian Joan Morgan—author of The New Book of Apples—has released a companion volume titled The Book of Pears: The Definitive History and Guide to Over 500 Varieties. Writer and poet James Crowden—author of the brilliant Ciderland—reviews Morgan's new book in The Wonderful, Secret and Fast Disappearing World of Pears.
6) New Scotland Cider in Nova Scotia is a collaborative, community-based company that may become the cider world's first B Corp. Show your support by backing their Kickstarter project.
7) The New York Times talks with Neversink Spirits about their apple eau de vie in From Neversink Spirits in Port Chester, N.Y., Local Fruit Brandy.
8) Cider Press examines the sugar content of major US cider brands in Sugar and Cider. For a different take on the same topic, try The Cider Journal's Just What Does "Dry" Really Mean in the Cider World? article from September.
9) Cider Says reviews The Bad Apple from 2 Towns, Wild Rose from WildCraft Cider Works, and samples ten ciders on a recent visit to Schilling Cider House in Seattle. Cider Soms reviews Dry Zider from Sonoma Cider. And Cider With Maria shares photos from her visit to the Finger Lakes Cider House during Cider Week Finger Lakes in October.
10) Though the autumn cider festival season has passed, mark your calendars for next year's GLINTCAP! The 11th Annual Great Lakes International Cider and Perry Competition will be held April 22-24 in Grand Rapids, Michigan.
That's all. Have a great weekend!
Eric