All,
Here's a recap of the best cider news worth sharing: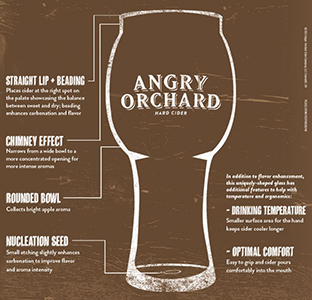 1) Angry Orchard introduces the Orchard Glass, specifically designed to enhance the taste and aroma of their Crisp Apple.
2) The online magazine PUNCH shares its excellent picks in The Five Ciders Under $25 You Need Right Now.
3) The Denver Post surveys the burgeoning Colorado cider scene in Apple cider more than just a seasonal standout.
4) It's been a few years since Chris Lehault has written for Serious Eats, but his collection of cider articles there are well worth revisiting. Start with his look at bittersharps and bittersweets.
5) On tap this weekend: Rock the Core in Cincinnati, the Birmingham Beer & Cider Festival in Birmingham, England, and the Salón Internacional de les Sidres de Gala in Gijón, Asturias.
6) Maria Kennedy recounts her weekend at Cider Week Finger Lakes and the Newark Valley Historical Society Apple Festival in Two Apple Festivals, One Weekend.
7) Crafty Nectar—a soon-to-launch monthly cider club—shares its list of 10 of the Best Cider Bars in the UK. Includes handy links to TripAdvisor reviews for each bar.
8) Ronald Sansone at Drinking Cider shares his thoughts on the Farnum Hill Ciders #winestudio Twitter chats from August in Talking About Cider.
9) Kate at Cider Says reviews Boonville Bite Hard, Crispin 15 Men, and Worley's Premium Vintage 2013.
10) The New York Times recommends Fishkill Farms for their Pick Your Own apples and Carr's Ciderhouse for their Cider Syrup in Exploring Apples Downtown, and in the Hudson Valley.
That's all. Have a great weekend!
Eric