Hello,
Here's a recap of the best cider news worth sharing: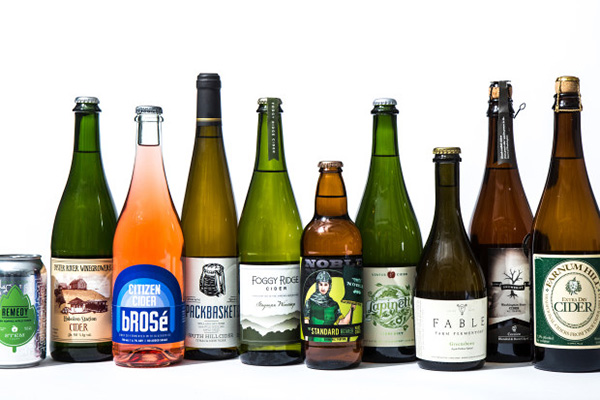 1) It's the season when thoughts of the harvest start putting cider on the public's radar. Alex Delany lists his 10 Ciders to Turn Wine Snobs Into Cider Snobs in Bon Appétit, Christian Conahan lists his 7 Fall-Inspired Ciders to Toast to the Harvest in Cidercraft, and Justin Kennedy shares his Guide to Hard Cider in Lucky Peach.
2) While Ontario's cider makers struggle with restrictive regulation, New York's cidermakers will benefit from Legislation to Strengthen New York State's Craft Beverage Industry. The key provision is that—in addition to their own products—farm cideries can sell any New York-made farm alcoholic beverage by the glass at their production facility or off-site branch store.
3) The stories of two rapidly growing businesses started as undergraduate exploration: Innovation by Design: Revel Cider's Move Forward and Downeast Cider Expands to East Boston in September.
4) Ronald Sansone writes for Cider Culture on educational opportunities in Cider School Is in Session! And Michael Wilcox writes for the BJCP Newsletter on Judging Specialty Cider and Perry. This article is useful for both cidermakers and cider judges looking to improve their craft.
5) Prior to their sold-out pairing dinner at Wassail on Tuesday, Tom Oliver of Oliver's Cider & Perry and Ryan Burk of Angry Orchard recorded Power To The Cider with Beer Sessions Radio. Also in studio are John Reynolds of Blackduck Cidery and BR Rolya of Shelton Brothers.
6) Registration is now open for The International Cider Awards 2017. The judging—which takes place March 7-9 in Burton upon Trent, England—is unique in that only commercial cidermakers are allowed to serve as judges. The competition's reigning champion is Mac Ivors Traditional Dry Cider from County Armagh, Northern Ireland. (Registration is also open for the inaugural US Open Cider Championship. Entries must arrive by October 14 to be included in the judging.)
7) Cider Says recaps Cider Summit Seattle in two acts: The Event and Tasting Notes. CiderScene recaps the Meadful Things & Outciders Festival in Indianapolis. And Cider Soms visit Sonoma Cider and Tilted Shed on their Sonoma County Cider Road Trip.
8) On tap for Saturday: the Virginia Cider Festival in Fredericksburg. For more on Virginia's cider scene, read Five Stops Through Virginia Cider Country and Wine and cider sales up in Virginia.
9) Also this weekend: the Mendocino County Fair & Apple Show in Boonville, California. Visitors to the fair can sample medal-winning ciders from the California Cider Competition and Mendocino Apple Show International Cider Competition (see Results for the awards from these sister competitions.)
10) Along Came a Cider reviews Crispin Browns Lane. Cider Says shares tasting notes from a flight at Schilling Cider House and reviews Square Mile Spur & Vine, Schilling Trouble in Paradise, and Dunkertons Black Fox. I think about cider reviews Etienne Dupont Cidre Bouché Brut de Normandie 2014. The Cider Drinker video reviews Worley's Harvest Moon. And Cider Steve reviews Cornwall Cider's Apple Slayer.
Have a great weekend!
Eric