Hello,
Here's a recap of the best cider news worth sharing: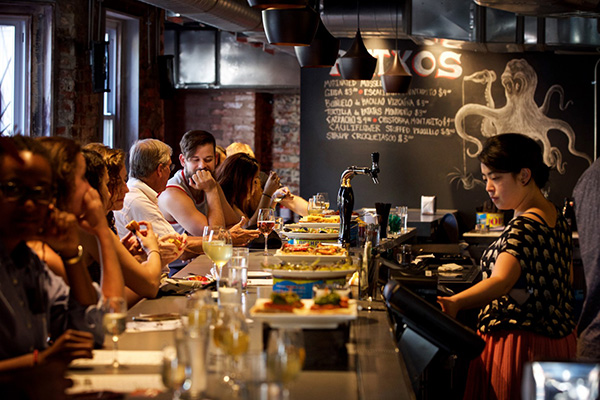 1) The Washington Post lavishes praise on DC's newly-opened ANXO Cidery & Pintxos Bar in Anxo pours on the charm with complex ciders — and finger foods to match.
2) "Here and now, let me say: We are not here to pick fights." Melissa Madden of the Finger Lakes Cider House elaborates on comments made in a recent Slate article in Quality of Apples…Fundamental. (Andy Brennan of Aaron Burr Cider is not nearly as diplomatic, weeping for the future of the US cider industry in What gives cider depth.)
3) The Alchema Smart Homebrewer has raised over $300,000 on Kickstarter. The machine promises to "turn fruit into personalized craft cider…with the simplicity of making a pot of coffee." (If set-it-and-forget-it isn't your style, Drinking Cider has some helpful advice in DIY: Picking a Yeast for your Home Cidermaking.)
4) In other crowdfunding news, Mershon's Cidery in Wisconsin, Cider Corps in Arizona, and Lassen Traditional Cider and Sonoma Cider in California are seeking funds to open their taprooms and to fund equipment purchases.
5) Cider Chat interviews Sebastian Lousada of Flag Hill Farm Vermont Hard Cyder.
6) Meet the Cider Maker: Philippe Lecrivain is Holly Tennant's latest piece for Cider Culture. Lecrivain operates Le Pressoir du Mont with his wife and brother in Brée en Tanis, Normandy.
7) Cider Australia is seeking to exclude cider producers that use imported juice or concentrate from receiving federal tax rebates. See WET Rebate only on 100% Australian juice cider from Real Cider Reviews for commentary. (In related news, cider expert Bill Bradshaw previews his late September visit in Australia: Cider & Treasure.)
8) Tickets for this year's Franklin County CiderDays—held November 4-6 in Western Massachusetts—are now on sale. Wheel-View Farm—one of many small growers and cidermakers that make CiderDays such a unique festival—will open its cider tasting room to the public this weekend.
9) On tap: the annual Ross on Wye Cider Festival in Herefordshire and the inaugural Meadful Things and Outciders Festival in Indianapolis.
10) Along Came a Cider reviews South Hill Cider's Stone Fence Farm. Cider Says reviews Slyboro Hidden Star, Scandinavian Green Apple Craft Cider, Ross on Wye Traditional Farmhouse Medium Dry, and Angry Orchard Easy Apple. The Milled Apple reviews Blue Bee Charred Ordinary. The Cider Drinker video reviews Celtic Marches Abrahalls Cider and Strongbow Cloudy Apple. And Real Cider Reviews tries Flying Brick Pear Cider.
Have a great weekend!
Eric