Good morning!
Here's a recap of the best cider news worth sharing: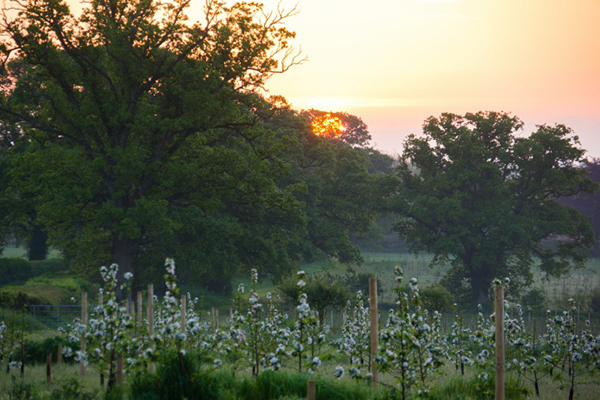 Credit: Yeovil Press
1) I couldn't resist sharing this English story of cider lovers worshipping apple trees naked at dawn in Somerset as reported by Yeovil Press.
2) Oregon is getting a new cidery and taproom as 12 Bridge Ciderworks opening in Oregon City. And in San Louis Obispo County there are now 5 cideries operating and innovating.
3) Cider Culture wants us to know What's Keeving? 10 Northwest Cidermakers Heading to Europe on Educational Mission to Learn More about the amazing trip select members of the Northwest Cider Association (NWCA) are making.
4) Ria Windcaller of Cider Chat interviews Lou and Sue Chadwick who are Grafting at Second Chance Farm.
5) New releases include Desolation Prickly Pear Hard Cider from Mountain West Hard Cider of Utah, Pato Feo by Colorado Cider Company and Buskey Cider is releasing three new ciders to celebrate their first birthday. And Momenti is releasing a hard-cider-infused sorbet for the first time: Sonoma Cider Sorbet.
6) Bantam Cider out of Massachusetts was recently profiled by Phear Creative in By The Bootstraps, in Conversatin with Michella Da Silva & Dana Masterpolo, Bantam Cider. While Sip Northwest Magazine is still thinking about cider, this time Cider Innovation with Rev Nat's, Schilling, Anthem & Wandering Aengus.
7). Cider Journal thoughtfully considers Ciders Still & Dry–Rare and Majestic a topic to many of our hearts.
8) This week the Great Lakes International Cider and Perry Competition (GLINTCAP) is taking place in Grand Rapids, Michigan with a record number of entries, keeping this competition the world's largest. It will be coinciding with Cider Week GR.
9) Cider event are evidently in bloom with the NorCal Cider Classic which you can read about in CIDERCRAFT NorCal Cider Classic. There's also Cider Summit SF – featured in Cider making a Splash in Bay Area and Cider Summit SF Returns! Plus 5 Facts to Up Your Cider Knowledge in SF Station – San Francisco's City Guide.
Moving up to Oregon, we can find Hood River Hard-Pressed Cider Fest.
Back east in North Carolina, there's the 2017 Apple Country Cider Jam – written up in Southern Mountain Fresh.
10) A quick tour of the week's reviews Along Came A Cider(that's me) sharing my thoughts on Du Minot Cidrerie's La Bolee Petillante. Cider Says reviews Eve's Cidery Rustica, Sea Cider Ruby Rose. Cidercraft reviews Sietsema Orchards Traditional Hard Cider. The Milled Apple reviews Gurutzeta Sidra Natural and Strongbow Cherry Blossom. And Cider Society reviews Fable Farm Fermentory Rosary.
I hope your weekend is delicious. Cheers!
Meredith