Here's a recap of the best cider news worth sharing: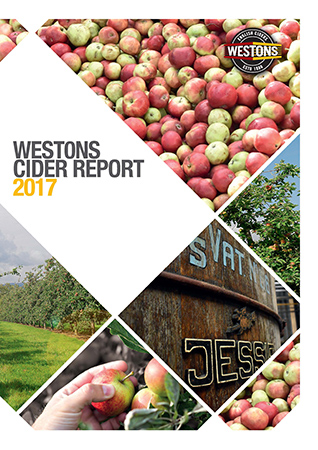 1) The Westons Cider Report 2017 reveals insights and trends in the UK cider market. The United States Association of Cider Makers publishes its Strategic Plan 2017-2019. And Cider Australia believes "there is a real opportunity for Australian cider to follow in the footsteps of the wine industry and contribute to growing Australian exports" in Craft Cider surges ahead in 2017.
2) Tasting Cider: The CIDERCRAFT Guide to the Distinctive Flavors of North American Hard Cider by Erin James and Modern Cider: Simple Recipes to Make Your Own Ciders, Perries, Cysers, Shrubs, Fruit Wines, Vinegars, and More by Emma Christensen are available for pre-order at Amazon.com.
3) Matt Kaminsky—author of The Wild Apple Forager's Guide—shares insights in Grafting Season // Notes on Wild Apple Groves at Gnarly Pippins.
4) Cider Chat interviews Nicole and Rafe Ward of Forgotten Ciders in Michigan.
5) CIDERCRAFT chats with Eli Cayer in All Fermentables Welcome at Urban Farm Fermentory and lists Five Great Lakes Cherry Ciders We'll Be Sipping This Spring.
6) Cider Takes Center Stage With These Food Pairings at Wine Enthusiast Magazine.
7) Elements of Balance in Cider and Perry and Understanding Malolactic Fermentation (MLF) are the latest cidermaking (and cider judging) articles from Michael Wilcox.
8) Registration closes today for the Penn State Cider Symposium to be held on Friday, April 28.
9) The Fourth Annual Hopped Cider Festival takes place on Saturday at Reverend Nat's in Portland, Oregon.
10) Along Came a Cider reviews Citizen Cider Wit's Up. Cider Says reviews Three Kees Cider Dessert Apple, shares Tasting Notes from Reverend Nat's Tap Room, and recaps Bushwhacker Cider and Cider Purchases in Portland, Oregon. Cidercraft reviews Virtue Cider The Mitten. drycider reviews Etienne Dupont Cidre Bouché Organic and Blackduck Dry Cider. CiderScene reviews Starcut Ciders Phuzz and recaps the 2 Fools Cider Event in Naperville, IL. The Milled Apple reviews Urban Farm Fermentory Sidrah and Albemarle CiderWorks Arkansas Black. Cider Society reviews Sundström Cider Greater Lake Ontario 2015, Graft Cider Book Of Nomad: Edge of Nowhere, and Astarbe Sagardo Natural. Cider Steve reviews 6 Somewhere Coup de Foudre by Pierre Huet. Cider Sleuth stages The East-West Divide: A Taste Off. And Real Cider Reviews tries Domaine Johanna Cecillon Cidre Nerios.
Have a great weekend!
Eric